Purchase
> select price
Let us create a custom design just for you!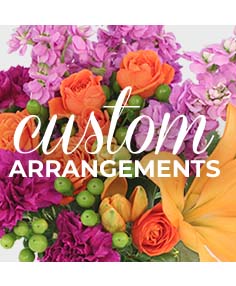 CUSTOM ARRANGEMENT
of Fresh Flowers
$55.00, $65.00, $75.00
Shown at $65.00
If you don't find exactly what you are looking for in our gallery, please let us custom design an arrangement for you.
Our professional staff of floral designers are always eager to discuss any special design or product requests. Be sure to ask about cut off times for design and delivery. Some unique flower varieties may require 3 to 7 days lead time to ensure that they are available on the day that you need them. Feel free to call and discuss any special needs with our staff.
BEZALEL REHABILITATION AND NURSING CENTER
29-38 FAR ROCKAWAY BLVD
FAR ROCKAWAY, NY 11691
(718) 471-2600

BISHOP CHARLES WALDO MACLEAN@EPISCOPAL NURSING HOME
17-11 BROOKHAVEN AVENUE
FAR ROCKAWAY, NY 11691
(718) 869-8000

BRIDGE VIEW NURSING HOME
143-10 20TH AVE
WHITESTONE, NY 11357
(718) 961-1212

BROOKHAVEN REHABILITATION & HEALTH CARE CENTER LLC
250 BEACH 17TH STREET FAR ROCKAWAY, NY 11691
(718) 471-7500

CHAPIN HOME FOR THE AGING
165-01 CHAPIN PARKWAY
JAMAICA, NY 11432
(718) 739-2523

CLIFFSIDE REHABILITATION & RESIDENTIAL HEALTH CARE CTR

119-19 GRAHAM COURT
FLUSHING, NY 11354
(718) 886-0700

DR WILLIAM O BENENSON REHAB PAVILION
36-17 PARSONS BOULEVARD
FLUSHING, NY 11354
(718) 961-4300

DRY HARBOR NURSING HOME
61-35 DRY HARBOR ROAD
MIDDLE VILLAGE, NY 11379
(718) 565-4200

ELMHURST CARE CENTER,INC
100-17 23 AVENUE
EAST ELMHURST, NY 11369
(718) 205-8100

FAIRVIEW NURSING CARE CENTER INC
69-70 GRAND CENTRAL PARKWAY
FOREST HILLS, NY 11375
(718) 263-4600

FAR ROCKAWAY NURSING HOME
13-11 VIRGINA ST
FAR ROCKAWAY, NY 11691
(718) 327-2909

FLUSHING MANOR CARE CENTER
139-62 35TH AVENUE
FLUSHING, NY 11354
(718) 961-5300

FLUSHING MANOR NURSING & REHABILITATION
35-15 PARSONS BLVD
FLUSHING, NY 11354
(718) 961-3500

FOREST HILLS CARE CENTER
71-44 YELLOWSTONE BLVD
FOREST HILLS, NY 11375
(718) 544-4300

FOREST VIEW CENTER FOR REHABILITATION & NURSING 7120
110TH STREET FOREST HILLS, NY 11375
(718) 793-3200

FRANKLIN CENTER FOR REHABILITATION AND NURSING
142-27 FRANKLIN AVENUE
FLUSHING, NY 11355
(718) 670-3400

HAVEN MANOR HEALTH CARE CENTER
1441 GATEWAY BOULEVARD
FAR ROCKAWAY, NY 11691
(718) 471-1500

HIGHLAND CARE CENTER
91-31 175TH STREET
JAMAICA, NY 11432
(718) 657-6363

HILLSIDE MANOR REHAB & EXTENDED@CARE CTR
182-15 HILLSIDE AVENUE
JAMAICA ESTATES, NY 11432
(718) 291-8200

HOLLIS PARK MANOR NURSING HOME
191-06 HILLSIDE AVENUE
HOLLIS, NY 11423
(718) 479-1010

HOLLISWOOD CARE CENTER INC
195-44 WOODHULL AVENUE
HOLLIS, NY 11423
(718) 740-3500

HORIZON CARE CENTER
64-11 BEACH CHANNEL DRIVE
ARVERNE, NY 11692
(718) 945-0700

JAMAICA HOSPITAL NURSING HOME CO INC
90-28 VAN WYCK EXPRESSWAY
JAMAICA, NY 11418
(718) 291-5300

LAWRENCE NURSING CARE CENTER, INC
350 BEACH 54TH STREET
ARVERNE, NY 11692
(718) 945-0400

LITTLE NECK NURSING HOME
260-19 NASSAU BLVD
LITTLE NECK, NY 11362
(718) 423-6400

LONG ISLAND CARE CENTER INC
144-61 38TH AVE
FLUSHING, NY 11354
(718) 939-7500

MARGARET TIETZ CENTER FOR NURSING CARE INC
164-11 CHAPIN PARKWAY
JAMAICA, NY 11432
(718) 298-7800

MEADOW PARK REHABILITATION AND HEALTH CARE CTR LLC 78-10 164TH STREET FLUSHING, NY 11366
(718) 591-8300

MIDWAY NURSING HOME
69-95 QUEENS MIDTOWN EXPRESSWAY
MASPETH, NY 11378
(718) 429-2200

MSGR J H FITZPATRICK PAV FOR SNC
152-11 89TH AVENUE
JAMAICA, NY 11432
(718) 558-2800

NEW GLEN OAKS NURSING HOME, INC
260-01 79TH AVENUE
GLEN OAKS, NY 11004
(718) 343-0770

NEW SURFSIDE NURSING HOME, LLC
22-41 NEW HAVEN AVENUE
FAR ROCKAWAY, NY 11691
(718) 471-3400

NEW YORK CENTER FOR REHABILITATION & NURSING
26-13 21ST STREET
ASTORIA, NY 11102
(718) 626-4800

NYS VETERANS HOME IN NYC
178-50 LINDEN BLVD
JAMAICA, NY 11434
(718) 990-0329

OCEAN PROMENADE NURSING CENTER
140 BEACH 113TH STREET
ROCKAWAY PARK, NY 11694
(718) 945-6350

OCEANVIEW NURSING & REHABILITATION CENTER, LLC
315 BEACH 9TH STREET
FAR ROCKAWAY, NY 11691
(718) 471-6000

OZANAM HALL OF QUEENS NURSING HOME INC
42-41 201ST STREET
BAYSIDE, NY 11361
(718) 423-2000

PARK NURSING HOME
128 BEACH 115TH STREET
ROCKAWAY PARK, NY 11694
(718) 474-6400

PARK TERRACE CARE CENTER
59-20 VAN DOREN STREET
REGO PARK, NY 11368
(718) 592-9200

PARKER JEWISH INSTITUTE FOR@HEALTH CARE & REHAB
271-11 76TH AVENUE
NEW HYDE PARK, NY 11040
(718) 289-2350

PENINSULA CENTER FOR EXTENDED CARE AND REHABILITATION
50-15 BEACH CHANNEL DRIVE
FAR ROCKAWAY, NY 11691
(718) 734-2000

PROMENADE REHABILITATION AND HEALTH CARE CENTER 140
BEACH 114TH STREET ROCKAWAY PARK, NY 11694
(718) 945-4600

QUEEN OF PEACE RESIDENCE
110-30 221ST ST
QUEENS VILLAGE, NY 11429
(718) 464-1800

QUEENS BOULEVARD ECF, INC
61-11 QUEENS BOULEVARD
WOODSIDE, NY 11377
(718) 205-0290

QUEENS CENTER FOR REHABILITATION & RESIDENTIAL HEALTH CARE
157-15 19TH AVENUE
WHITESTONE, NY 11357
(718) 746-0400

QUEENS NASSAU REHABILITATION AND NURSING CENTER 520
BEACH 19TH STREET FAR ROCKAWAY, NY 11691
(718) 471-7400

REGAL HEIGHTS REHABILITATION AND HEALTH CARE CENTER
70-05 35TH AVE
JACKSON HEIGHTS, NY 11372
(718) 662-5100

REGO PARK NURSING HOME
111-26 CORONA AVENUE
FLUSHING, NY 11368
(718) 592-6400

RESORT NURSING HOME
430 BEACH 68TH STREET
ARVERNE, NY 11692
(718) 474-5200

ROCKAWAY CARE CENTER
353 BEACH 48TH STREET
EDGEMERE, NY 11691
(718) 471-5000

SILVERCREST
144-45 87TH AVENUE
JAMAICA, NY 11435
(718) 480-4026

ST MARYS HOSPITAL FOR CHILDREN INC
29-01 216 STREET
BAYSIDE, NY 11360
(718) 281-8800

UNION PLAZA CARE CENTER
33-23 UNION STREET
FLUSHING, NY 11354
(718) 670-0700

WATERVIEW NURSING CARE CENTER
119-15 27TH AVENUE
FLUSHING, NY 11354
(718) 461-5000

WEST LAWRENCE CARE CENTER, LLC
1410 SEAGIRT BLVD
FAR ROCKAWAY, NY 11691
(718) 471-7000

WINDSOR PARK NURSING HOME
212-40 HILLSIDE AVENUE
QUEENS VILLAGE, NY 11427
(718) 468-0800

WOODCREST REHABILITATION & RESIDENTIAL HEALTH CARE
CTR., LLC
119-09 26TH AVENUE
COLLEGE POINT, NY 11354
(718) 762-6100

A HOLLY PATTERSON EXTENDED CARE FACILITY
875 JERUSALEM AVENUE
UNIONDALE, NY 11553
(516) 572-1400

BAYVIEW NURSING AND REHABILITATION CENTER ONE LONG
BEACH ROAD ISLAND PARK, NY 11558
(516) 432-0300

BEACH TERRACE CARE CENTER
640 WEST BROADWAY
LONG BEACH, NY 11561
(516) 431-4400

BELAIR CARE CENTER INC
2478 JERUSALEM AVE
NO BELLMORE, NY 11710
(516) 826-1160

CENTRAL ISLAND HEALTHCARE
825 OLD COUNTRY RD
PLAINVIEW, NY 11803
(516) 433-0600

COLD SPRING HILLS CENTER FOR NURSING AND
REHABILITATION
378 SYOSSET-WOODBURY ROAD
WOODBURY, NY 11797
(516) 622-7700

EAST ROCKAWAY PROGRESSIVE CARE FACITY
243 ATLANTIC AVENUE
LYNBROOK, NY 11563
(516) 599-2744

FULTON COMMONS CARE CENTER INC
60 MERRICK AVE
EAST MEADOWS, NY 11554
(516) 222-9300

GARDEN CARE CENTER
135 FRANKLIN AVENUE
FRANKLIN SQUARE, NY 11010
(516) 775-2100

GLEN COVE CENTER FOR NURSING AND REHABILITATION
6 MEDICAL PLAZA
GLEN COVE, NY 11542
(516) 671-9010

GLENGARIFF HEALTH CARE CENTER
141 DOSORIS LANE
GLEN COVE, NY 11542
(516) 676-1100

GRACE PLAZA NURSING AND REHABILITATION CENTER
15 ST PAULS PLACE
GREAT NECK, NY 11021
(516) 466-3001

GRANDELL REHABILITATION AND NURSING CENTER
645 W BROADWAY
LONG BEACH, NY 11561
(516) 889-1100

HEMPSTEAD PARK NURSING HOME
800 FRONT STREET
HEMPSTEAD, NY 11550
(516) 705-9700

HIGHFIELD GARDENS CARE CENTER OF GREAT NECK
199 COMMUNITY DRIVE
GREAT NECK, NY 11021
(516) 365-9229

KOMANOFF CTR FOR GERIATRIC & REHAB MEDICINE
375 EAST BAY DRIVE
LONG BEACH, NY 11561
(516) 897-1220

MARQUIS CARE CENTER
2 MEDICAL PLAZA
GLEN COVE, NY 11542
(516) 671-0858

MAYFAIR CARE CENTER
100 BALDWIN ROAD
HEMPSTEAD, NY 11550
(516) 538-7171

MEADOWBROOK CARE CENTER, INC
320 WEST MERRICK ROAD
FREEPORT, NY 11520
(516) 377-8200

NASSAU EXTENDED CARE FACILITY
ONE GREENWICH STREET
HEMPSTEAD, NY 11550
(516) 565-4800

NORTH SHORE UNIV HOSP STERN FAMILY CTR FOR EXTENDED
CARE&REHAB 300 COMMUNITY DRIVE MANHASSET, NY 11030
(516) 562-8000

OCEANSIDE CARE CENTER INC
2914 LINCOLN AVENUE
OCEANSIDE, NY 11572
(516) 536-2300

ORZAC CENTER FOR EXTENDED CARE & REHABILITATION 900
FRANKLIN AVENUE VALLEY STREAM, NY 11580
(516) 256-6700

PARK AVENUE EXTENDED CARE FACILITY
425 NATIONAL BOULEVARD
LONG BEACH, NY 11561
(516) 431-2600

PARKVIEW CARE AND REHABILITATION CENTER, INC.
5353 MERRICK ROAD
MASSAPEQUA, NY 11758
(516) 798-1800

ROCKVILLE NURSING CENTER INC
41 MAINE AVENUE
ROCKVILLE CENTRE, NY 11570
(516) 536-7730

ROCKVILLE SKILLED NURSING & REHABILITATION CENTER, LLC

50 MAINE AVENUE
ROCKVILLE CENTRE, NY 11570
(516) 536-8000

SANDS POINT CENTER FOR HEALTH AND@REHABILITATION 1440
PORT WASHINGTON BLVD PORT WASHINGTON, NY 11050
(516) 719-9400

SOUTH SHORE HEALTHCARE
275 W MERRICK ROAD
FREEPORT, NY 11520
(516) 623-4000

SUNHARBOR MANOR
255 WARNER AVENUE
ROSLYN HEIGHTS, NY 11577
(516) 621-5400

TOWNHOUSE EXTENDED CARE FACILITY
755 HEMPSTEAD TURNPIKE
UNIONDALE, NY 11553
(516) 565-1900

WHITE OAKS NURSING HOME
8565 JERICHO TURNPIKE
WOODBURY, NY 11797
(516) 367-3400

WOODBURY NURSING HOME
8533 JERICHO TPKE
WOODBURY, NY 11797
(516) 692-4100

WOODMERE REHAB & HEALTH CARE CTR,INC
121 FRANKLIN PLACE
WOODMERE, NY 11598
(516) 374-9300

BISHOP FRANCIS J MUGAVERO@CENTER FOR GERIATRIC
CARE,INC
155 DEAN STREET
BROOKLYN, NY 11217
(718) 694-6700

BISHOP HENRY B. HUCLES EPISCOPAL NURSING HOME
835 HERKIMER STREET
BROOKLYN, NY 11233
(718) 221-2600

BROOKLYN UNITED METHODIST CHURCH HOME
1485 DUMONT AVENUE
BROOKLYN, NY 11208
(718) 827-4500

BROOKLYN-QUEENS NURSING HOME
2749 LINDEN BLVD
BROOKLYN, NY 11208
(718) 277-5100

BUENA VIDA CONTINUING CARE & REHAB CTR
48 CEDAR STREET
BROOKLYN, NY 11221
(718) 455-6200

CABS NURSING HOME COMPANY INC
270 NOSTRAND AVENUE
BROOKLYN, NY 11205
(718) 638-0500

CATON PARK NURSING HOME
1312 CATON AVENUE
BROOKLYN, NY 11226
(718) 693-7000

CENTER FOR NURSING & REHABILITATION INC 520 PROSPECT
PLACE BROOKLYN, NY 11238
(718) 636-1000

COBBLE HILL HEALTH CENTER, INC
380 HENRY STREET
BROOKLYN, NY 11201
(718) 855-6789

CONCORD NURSING HOME INC
300 MADISON STREET
BROOKLYN, NY 11216
(718) 636-7500

CROWN NURSING & REHAB CENTER
3457 NOSTRAND AVENUE
BROOKLYN, NY 11229
(718) 615-1100

DITMAS PARK CARE CENTER
2107 DITMAS AVENUE
BROOKLYN, NY 11226
(718) 462-8100

DR SUSAN SMITH MCKINNEY NURSING AND@REHABILITATION CENTER
594 ALBANY AVENUE
BROOKLYN, NY 11203
(718) 245-7000

FOUR SEASONS NURSING AND REHABILITATION CENTER
1555 ROCKAWAY PARKWAY
BROOKLYN, NY 11236
(718) 927-6300


GREENPARK CARE CENTER
140 ST EDWARDS STREET
BROOKLYN, NY 11201
(718) 858-6400

HAYM S0LOMON HOME FOR THE AGED
2340 CROPSEY AVENUE
BROOKLYN, NY 11214
(718) 373-1700

HOLY FAMILY HOME
1740 84TH STREET
BROOKLYN, NY 11214
(718) 232-3666

KESER NURSING AND REHABILITATION CENTER, INC.
40 HEYWARD STREET
BROOKLYN, NY 11211
(718) 858-6200

LEMBERG HOME & GERIATRIC INSTITUTE INC
8629 BAY PARKWAY
BROOKLYN, NY 11214
(718) 266-0900

LUTHERAN AUGUSTANA CENTER FOR EXTENDED CARE & REHABILITATION, INC
5434 SECOND AVENUE
BROOKLYN, NY 11204
(718) 630-6000

MARCUS GARVEY NURSING HOME COMPANY INC
810-20 ST MARKS AVENUE
BROOKLYN, NY 11213
(718) 467-7300

MENORAH HOME & HOSPITAL FOR AGED & INFIRM
1516 ORIENTAL BLVD
BROOKLYN, NY 11235
(718) 646-4441

METROPOLITAN JEWISH GERIATRIC CENTER
4915 10TH AVE
BROOKLYN, NY 11219
(718) 851-3700

NEW CARLTON REHAB AND NURSING CENTER, LLC
405 CARLTON AVE
BROOKLYN, NY 11238
(718) 789-6262

NORWEGIAN CHRISTIAN HOME AND HEALTH CENTER 1270-67TH
STREET BROOKLYN, NY 11219
(718) 232-2322

NY CONGREGATIONAL NURSING CENTER, INC
135 LINDEN BOULEVARD
BROOKLYN, NY 11226
(718) 284-0039

OXFORD NURSING HOME
144 SO OXFORD ST
BROOKLYN, NY 11217
(718) 638-0360

PALM GARDENS CENTER FOR NURSING AND REHABILITATION
615 AVENUE C
BROOKLYN, NY 11218
(718) 633-3300

PALM TREE CENTER FOR NURSING AND REHABILITATION
5606 15TH AVE
BROOKLYN, NY 11219
(718) 851-1000

PROSPECT PARK CARE CENTER
1455 CONEY ISLAND AVENUE
BROOKLYN, NY 11230
(718) 252-9800

RIVER MANOR CARE CENTER
630 E 104TH STREET
BROOKLYN, NY 11236
(718) 240-3100

RUBY WESTON MANOR
2237 LINDEN BOULEVARD
BROOKLYN, NY 11207
(718) 649-7000

RUTLAND NURSING HOME CO INC
585 SCHENECTADY AVE
BROOKLYN, NY 11203
(718) 604-5000

SCHULMAN AND SCHACHNE INSTITUTE FOR NURSING AND REHABILITATION
555 ROCKAWAY PARKWAY
BROOKLYN, NY 11212
(718) 240-5775

SEA-CREST HEALTH CARE CENTER
3035 WEST 24TH ST
BROOKLYN, NY 11224
(718) 372-4500

SEPHARDIC SKILLED NURSING AND REHABILITATION CENTER
2266 CROPSEY AVENUE
BROOKLYN, NY 11214
(718) 266-6100
Visit this facility's

SHEEPSHEAD NURSING & REHABILITATION CENTER, LLC 2840
KNAPP STREET BROOKLYN, NY 11235

SHOREFRONT JEWISH GERIATRIC CENTER
3015 W 29 ST
BROOKLYN, NY 11224
(718) 266-5700

SHOREVIEW NURSING HOME
2865 BRIGHTON 3RD STREET
BROOKLYN, NY 11235
(718) 891-4400

SS JOACHIM & ANNE RESIDENCE
2720 SURF AVENUE
BROOKLYN, NY 11224
(718) 714-4800

VICTORY MEMORIAL HOSPITAL SNF
699 92 STREET
BROOKLYN, NY 11228
(718) 567-1820

WARTBURG LUTHERAN HOME FOR THE AGING
50 SHEFFIELD AVENUE
BROOKLYN, NY 11207
(718) 345-2273

WARTBURG NURSING HOME INC
50 SHEFFIELD AVENUE
BROOKLYN, NY 11207
(718) 345-2273

WILLOUGHBY REHABILITATION & HEALTH CARE CENTER
949 WILLOUGHBY AVE
BROOKLYN, NY 11221
(718) 443-1600

AMSTERDAM NURSING HOME CORP (1992)
1060 AMSTERDAM AVENUE
NEW YORK, NY 10025
(212) 678-2600

BIALYSTOKER CENTER FOR NURSING & REHABILITATION
228 EAST BROADWAY
NEW YORK, NY 10002
(212) 475-7755

CABRINI CENTER FOR NURSING & REHAB
542 EAST 5TH STREET
NEW YORK, NY 10009
(212) 358-6240

COLER-GOLDWATER SPEC HOSP&NURS FAC@COLER NURSING
FACILITY SITE ROOSEVELT ISLAND NEW YORK, NY 10044
(212) 848-6300

COLER-GOLDWATER SPEC HOSP&NURS FAC@GOLDWATER NURSING
FACILITY SITE
1 MAIN STREET ROOSEVELT ISLAND
NEW YORK, NY 10044

DEWITT REHABILITATION AND NURSING CENTER INC.
211 EAST 79 ST
NEW YORK, NY 10021
(212) 879-1600

ELIZABETH SETON PEDIATRIC CENTER
590 AVENUE OF THE AMERICAS
NEW YORK, NY 10011
(646) 459-3600

FORT TRYON CENTER FOR REHABILITATION AND NURSING
801 W 190TH ST
NEW YORK, NY 10040
(212) 543-6400

GREATER HARLEM NURSING HOME COMPANY INC 30 WEST 138TH
STREET NEW YORK, NY 10037
(212) 690-7400

INCARNATION CHILDRENS CENTER INC
142 AUDUBON AVE
NEW YORK, NY 10032
(212) 928-2590

ISABELLA GERIATRIC CENTER INC
515 AUDUBON AVENUE
NEW YORK, NY 10040
(212) 781-9800

JEWISH HOME AND HOSPITAL FOR AGED
120 WEST 106TH STREET
NEW YORK, NY 10025
(212) 870-5000

KATERI RESIDENCE
150 RIVERSIDE DRIVE
NEW YORK, NY 10024
(646) 505-3801

MARY MANNING WALSH NURSING HOME CO INC
1339 YORK AVENUE
NEW YORK, NY 10021
(212) 628-2800

NEW EAST SIDE NURSING HOME
25 BIALYSTOKER PLACE
NEW YORK, NY 10002
(212) 673-8500

NEW GOUVERNEUR HOSPITAL SNF
227 MADISON STREET
NEW YORK, NY 10002
(212) 238-7000

NORTHERN MANHATTAN REHABILITATION AND NURSING CENTER
116 EAST 125TH ST
NY, NY 10035
(212) 426-1284

RIVINGTON HOUSE-THE NICHOLAS A RANGO HEALTH CARE
FACILITY
45 RIVINGTON STREET
NEW YORK, NY 10002
(212) 477-3100

ST MARYS CENTER INC
516 WEST 126TH STREET
NY, NY 10027
(212) 662-1826

ST ROSES HOME
71 JACKSON STREET
NEW YORK, NY 10002
(212) 677-8132

TERENCE CARDINAL COOKE@HEALTH CARE CTR
1249 FIFTH AVENUE
NEW YORK, NY 10029
(212) 360-3600

THE ROBERT MAPPLETHORPE@RESIDENTIAL TREATMENT FACILITY A.N.
327 EAST 17TH STREET
NEW YORK, NY 10003
(212) 420-5690

VILLAGE CENTER FOR CARE
607 HUDSON STREET
NEW YORK, NY 10014
(212) 255-3003

BAINBRIDGE NURSING & REHABILITATION@CENTER
3518 BAINBRIDGE AVENUE
BRONX, NY 10467
(718) 655-1991

BETH ABRAHAM HEALTH SERVICES
612 ALLERTON AVENUE
BRONX, NY 10467
(718) 881-3000

BRONX CENTER FOR REHABILITATION & HEALTH CARE 1010
UNDERHILL AVE BRONX, NY 10472
(718) 863-6700

BRONX LEBANON SPECIAL CARE CENTER
1265 FULTON AVENUE
BRONX, NY 10456
(718) 579-7000

BRONX PARK REHABILITATION & NURSING CENTER
3845 CARPENTER AVE
BRONX, NY 10467
(718) 798-1100

CASA PROMESA
308 EAST 175 STREET
BRONX, NY 10457

CONCOURSE REHABILITATION AND NURSING CENTER, INC
1072 GRAND CONCOURSE
BRONX, NY 10456
(718) 681-4000

DAUGHTERS OF JACOB NURSING HOME COMPANY INC 1160
TELLER AVE BRONX, NY 10456
(718) 293-1500

EAST HAVEN NURSING & REHABILITATION@CENTER
2323-27 EASTCHESTER ROAD
BRONX, NY 10469
(718) 655-2848

EASTCHESTER REHABILITATION AND HEALTH CARE CENTER
2700 EASTCHESTER ROAD BRONX, NY 10469
(718) 231-5550

FIELDSTON LODGE CARE CENTER
666 KAPPOCK STREET
BRONX, NY 10463
(718) 549-1203

GOLD CREST CARE CENTER
2316 BRUNER AVENUE
BRONX, NY 10469
(718) 882-6400

GRAND MANOR NURSING & REHABILITATION CENTER 700 WHITE
PLAINS ROAD BRONX, NY 10473
(718) 518-8892

HEBREW HOME FOR THE AGED AT RIVERDALE
5901 PALISADE AVENUE
BRONX, NY 10471
(718) 581-1000

HEBREW HOSPITAL HOME INC
801 CO-OP CITY BLVD
BRONX, NY 10475
(718) 239-6444

HIGHBRIDGE-WOODYCREST CENTER INC
936 WOODYCREST AVENUE
BRONX, NY 10452
(718) 293-3200

HUDSON POINTE AT RIVERDALE CTR FOR
NURSING&REHABILITATION
3220 HENRY HUDSON PARKWAY
BRONX, NY 10463
(718) 514-2000

JEANNE JUGAN RESIDENCE
2999 SCHURZ AVENUE
BRONX, NY 10465
(347) 329-1800

JEWISH HOME & HOSPITAL BRONX DIV@HARRY & JEANETTE
WEINBERG CAMPUS 100 WEST KINGSBRIDGE ROAD BRONX,
NY 10468
(718) 579-0280

KINGS HARBOR MULTICARE CENTER
2000 E GUNHILL ROAD
BRONX, NY 10469
(718) 320-0400

KINGSBRIDGE HEIGHTS REHABILITATION AND CARE CENTER
3400 CANNON PLACE BRONX, NY 10463
(718) 796-8100

LACONIA NURSING HOME
1050 EAST 230TH STREET
BRONX, NY 10466
(718) 654-5875

MANHATTANVILLE HEALTH CARE CENTER
311 W 231ST STREET
BRONX, NY 10463
(718) 601-8400

METHODIST CHURCH HOME FOR THE AGED
4499 MANHATTAN COLLEGE PARKWAY
BRONX, NY 10471
(718) 548-5100

MORNINGSIDE HOUSE NURSING HOME COMPANY INC 1000
PELHAM PARKWAY SOUTH BRONX, NY 10461
(718) 409-8200

MORRIS PARK NURSING HOME
1235 PELHAM PARKWAY NORTH
BRONX, NY 10469
(718) 231-4300

MOSHOLU PARKWAY NURSING &@REHABILITATION CENTER
3356 PERRY AVENUE
BRONX, NY 10467
(718) 655-3568

PALISADE NURSING HOME COMPANY INC
5901 PALISADE AVENUE
BRONX, NY 10471
(718) 549-8700

PARK GARDENS REHABILITATION & NURSING CENTER LLC
6585 BROADWAY
RIVERDALE, NY 10471
(718) 549-2200

PELHAM PARKWAY NURSING CARE AND REHABILITATION
FACILITY LLC
2401 LACONIA AVE
BRONX, NY 10469
(718) 798-8600

PROJECT SAMARITAN AIDS SERVICES INC
1401 UNIVERSITY AVENUE
BRONX, NY 10452
(718) 681-8700

PROVIDENCE REST, INC.
3304 WATERBURY AVENUE
BRONX, NY 10465
(718) 931-3000

REGEIS CARE CENTER
3200 BAYCHESTER AVE
BRONX, NY 10475
(718) 320-3700

RIVERDALE NURSING HOME
641 WEST 230TH ST
BRONX, NY 10463
(718) 796-4800

SCHERVIER NURSING CARE CENTER
2975 INDEPENDENCE AVE
BRONX, NY 10463
(718) 548-1700

SPLIT ROCK REHABILITATION AND HEALTH CARE CENTER
3525 BAYCHESTER AVE
BRONX, NY 10466
(718) 798-8900

ST BARNABAS NURSING HOME, INC
2175 QUARRY RD
BRONX, NY 10457
(718) 960-3910

ST PATRICKS HOME
66 VAN CORTLANDT PARK SOUTH
BRONX, NY 10463
(718) 519-2800

ST VINCENT DEPAUL RESIDENCE
900 INTERVALE AVENUE
BRONX, NY 10459
(917) 645-9225

TERRACE HEALTH CARE CENTER
2678 KINGSBRIDGE TERRACE
BRONX, NY 10463
(718) 796-5800

THROGS NECK EXTENDED CARE FACILITY
707 THROGS NECK EXPRESSWAY
BRONX, NY 10465
(718) 430-0003

UNITED ODD FELLOW & REBEKAH HOME
1072 HAVEMEYER AVENUE
BRONX, NY 10462
(718) 863-6200

UNIVERSITY NURSING HOME
2505 GRAND AVE
BRONX, NY 10468
(718) 295-1400

WAYNE CTR FOR NURSING & REHABILITATION
3530 WAYNE AVENUE
BRONX, NY 10467
(718) 655-1700

WILLIAMSBRIDGE MANOR NURSING HOME
1540 TOMLINSON AVENUE
BRONX, NY 10461
(718) 892-6600

WORKMEN'S CIRCLE MULTICARE CENTER
3155 GRACE AVENUE
BRONX, NY 10469
(718) 379-8100

AFFINITY SKILLED LIVING AND REHABILITATION CENTER
305 LOCUST AVENUE
OAKDALE, NY 11769
(631) 218-5000

AVALON GARDENS REHABILITATION & HEALTH CARE CENTER, INC
7 ROUTE 25A
SMITHTOWN, NY 11787
(631) 724-2200

BELLHAVEN CENTER FOR GERIATRIC AND REHABILITATIVE CARE

110 BEAVER DAM ROAD
BROOKHAVEN, NY 11719
(631) 286-8100

BERKSHIRE NURSING & REHABILITATION CENTER 10
BERKSHIRE ROAD W BABYLON, NY 11704
(631) 587-0600

BROADLAWN MANOR NURSING & REHAB CTR
399 COUNTY LINE RD
AMITYVILLE, NY 11701
(631) 264-0222

BROOKHAVEN HEALTH CARE FACILITY, LLC
801 GAZZOLA BLVD
PATCHOGUE, NY 11772
(631) 447-8800

BRUNSWICK HOSPITAL CENTER INC
366 BROADWAY
AMITYVILLE, NY 11701
(631) 789-7000

CARILLON NURSING AND REHABILITATION CENTER 830 PARK
AVENUE HUNTINGTON, NY 11743
(631) 271-5800

CEDAR LODGE NURSING HOME
6 FROWEIN ROAD
CENTER MORICHES, NY 11934
(631) 878-4400

CREST HALL CARE CENTER
63 OAKCREST AVE
MIDDLE ISLAND, NY 11953
(631) 924-8830

DALEVIEW CARE CENTER
574 FULTON STREET
FARMINGDALE, NY 11735
(631) 694-6242

EAST NECK NURSING & REHABILITATION@CTR
134 GREAT EAST NECK ROAD
WEST BABYLON, NY 11704
(631) 422-4800

GOOD SAMARITAN NURSING HOME
101 ELM ST
SAYVILLE, NY 11782
(631) 244-2400

GURWIN JEWISH GERIATRIC CENTER
68 HAUPPAUGE ROAD
COMMACK, NY 11725
(631) 499-6500

HILAIRE FARM SKILLED LIVING & REHABILITATION CENTER, LLC
9 HILAIRE DRIVE
HUNTINGTON, NY 11743
(631) 427-0254

HUNTINGTON HILLS CENTER FOR HEALTH AND REHABILITATION 400 SOUTH SERVICE ROAD MELVILLE, NY 11747
(631) 439-3000

ISLAND NURSING AND REHAB CENTER
5537 EXPRESSWAY DRIVE NORTH
HOLTSVILLE, NY 11742
(631) 758-3336

JEFFERSON'S FERRY
500 MATHER DRIVE
SO SETAUKET, NY 11720
(631) 650-2600

JOHN J FOLEY SKILLED NURSING FAC
14 GLOVER DRIVE
YAPHANK, NY 11980
(631) 852-4404

LITTLE FLOWER NURSING HOME & HRF
340 EAST MONTAUK HIGHWAY
EAST ISLIP, NY 11730
(631) 581-6400

LONG ISLAND STATE VETERANS HOME
SUNY AT STONYBROOK 100 PATRIOTS ROAD
STONYBROOK, NY 11790
(631) 444-8606

MARIA REGINA RESIDENCE INC
1725 BRENTWOOD RD - BLDG 1
BRENTWOOD, NY 11717
(631) 273-4500

MEDFORD MULTICARE CENTER FOR LIVING
3115 HORSEBLOCK ROAD
MEDFORD, NY 11763
(631) 730-3000

NESCONSET NURSING CENTER, LLC
100 SOUTHERN BOULEVARD
NESCONSET, NY 11767
(631) 361-8800

OAK HOLLOW NURSING CENTER
49 OAKCREST AVENUE
MIDDLE ISLAND, NY 11953
(631) 924-8820

OUR LADY OF CONSOLATION@GERIATRIC CARE CENTER
111 BEACH DRIVE
WEST ISLIP, NY 11795
(631) 587-1600

PATCHOGUE NURSING CENTER
25 SCHOENFELD BLVD
PATCHOGUE, NY 11772
(631) 289-7700

PECONIC BAY SKILLED NURSING FACILITY
1300 ROANOKE AVENUE
RIVERHEAD, NY 11901
(631) 548-6260

PECONIC LANDING AT SOUTHOLD
1500 BRECKNOCK ROAD
GREENPORT, NY 11944
(631) 477-3800

PETITE FLEUR NURSING HOME
300 BROADWAY AVENUE
SAYVILLE, NY 11782
(631) 567-9300

PORT JEFFERSON HEALTH CARE FACILITY
150 DARK HOLLOW ROAD
PORT JEFFERSON, NY 11777
(631) 473-5400

RIVERHEAD CARE CENTER, LLC
1146 WOODCREST AVENUE
RIVERHEAD, NY 11901
(631) 727-7744

ROSS HEALTH CARE CENTER
839 SUFFOLK AVENUE
BRENTWOOD, NY 11717
(631) 273-4700

SAN SIMEON BY THE SOUND CENTER FOR
NURSING&REHABILITATION
61700 ROUTE 48, PO BOX 2122
GREENPORT, NY 11944
(631) 477-2110

SMITHTOWN CENTER FOR REHABILITATION & NURSING CARE
391 NORTH COUNTRY ROAD
SMITHTOWN, NY 11787
(631) 361-2020

ST CATHERINE OF SIENA NURSING HOME
52 ROUTE 25A
SMITHTOWN, NY 11787
(631) 862-3900

ST JAMES PLAZA NURSING FACILITY
273 MORICHES ROAD
ST JAMES, NY 11780
(631) 862-8990

ST JOHNLAND NURSING CENTER, INC
395 SUNKEN MEADOW ROAD
KINGS PARK, NY 11754
(631) 269-5800

ST. JAMES HEALTHCARE CENTER
275 MORICHES ROAD
ST JAMES, NY 11780
(631) 862-8000

SUNRISE MANOR CENTER FOR NURSING AND REHABILITATION
1325 BRENTWOOD ROAD
BAY SHORE, NY 11706
(631) 665-4960

THE CENTER FOR NURSING & REHABILITATION AT BIRCHWOOD, LLC
78 BIRCHWOOD DR
HUNTINGTON STATION, NY 11746
(631) 423-3673

THE HAMPTONS CENTER FOR REHABILITATION AND NURSING
64 COUNTY ROAD 39
SOUTHAMPTON, NY 11968
(631) 702-1000

WESTHAMPTON CARE CENTER
78 OLD COUNTRY ROAD
WESTHAMPTON, NY 11977
(631) 288-0101

WOODHAVEN NURSING HOME
1360 ROUTE 112
PORT JEFFERSON STATION, NY 11776
(631) 473-7100